Source: JPJ Johor – 22 December 2022
PUBLIC COMPLAINT ACTION – WITHOUT LICENSE VEHICLES
*Note: Article is translated via online translation service.
JOHOR: 22 December 2022 – A total of 6 vehicles have been arrested and inspected by the Road Transport Department (JPJ) of Johor State in Special Operations around the Malaysia – Singapore Entrance, Sultan Iskandar Building Johor.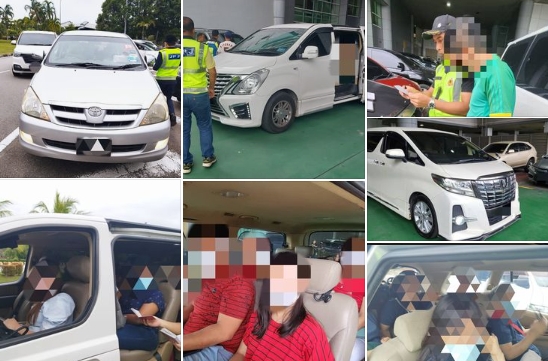 The operation is carried out by the Investigation and Research Unit together with the Johor JPJ Operations Unit targeting vehicles carrying passengers based on complaints received regarding vehicles operating without a valid permit.
As a result of inspection, all vehicles have been fined to drivers and owners under Section 23(2) of the Road Transport Act 1987 for LKM Misuse offenses. The offense can be fined not less than Ringgit One Thousand and not more than Ten Thousand or imprisonment for a period of not exceeding 2 years or both.
For any traffic complaints can be channeled directly through e-Complaint@jpj application or http://jpj.spab.gov.my along with the details of the complainant and details of the complaint.